Engineering changes, February to May 2019
For regular services see [here]
Three weekends of complete closure in April and May. Numerous days where overnight works take place until the end of June; we are unclear as to which of those dates if any will result in a change of train service http://www.passenger.chat/21077 for latest updates.
---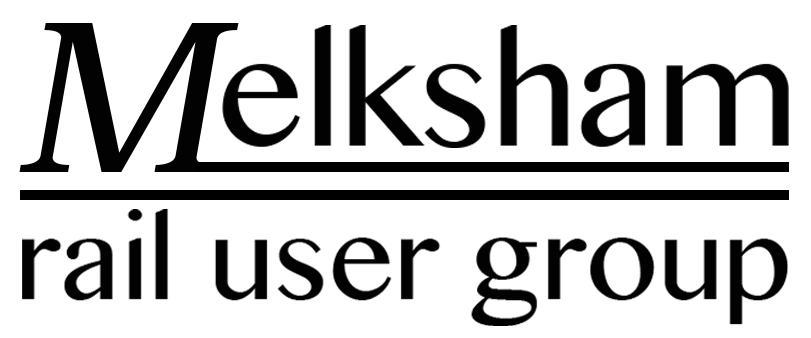 New and Upcoming ....
Timetables changing shortly
Bus times [First D3] (from 10.11.19) - [here]
Current train times (to 14.12.19) - [here]
Future train times (from 15.12.19) - [here]

MRUG public business, volunteers, planning 2020 meeting, 27th November 2019 - see [here]

15th December 2019 - Santa will be on the train from Melksham just after 15:00 (3 p.m.) to Swindon and back. Further details [here]

Report on reduction of station dwell time – three specific ideas for Melksham proposed by the Melksham Rail User Group in reply to request for suggestions from Mark Hopwood on 18th July 2019 for input by 24th July 2019 - [[here]]

Report on summer 2019 promotion - carnivals, and fetes - see [[here]]. Thank you to everyone who's helped - and enjoy your summer trips. Pictures from Imber on 17th August - here

Tribute to class 153 trains - the single carriages which provided the vital stepping stone from no useful service to what we now have, 2013-2018 on the line, now retiring from GWR

New "Great West Way Discover" tickets launched - travel as much as you like on selected routes, two of the tickets include Melksham - great for a Staycation or for visitors to the UK who are staying with you for a while. There are now 10 different rangers and rovers that include Melksham - see [here] for a list including maps and prices.


---
---
---
Forum latest new topics
* Where was Red Squirrel 16/11/2019

* Transport policies - who would you vote for on transport policy alone?

* Stonehouse (Bristol Road) - re-opening of station?

* How is it doing? - Making use of the train to get to a meeting 35 miles away

* If only I were fitter

* Woman fined for putting one foot into first class on packed train

* How is it doing? - a couple of passenger counts