Contacts
Train service and station operation
Information and contact for current train times and fares at
Great Western Railway
- our train operator
Line / lineside emergency - call Network Rail on 03457 11 41 41
Reporting an incident such as vandalism - call British Transport Police on 0800 40 50 40 (Emergency - call 999)
Strategic line and service development via
TransWilts Community Rail Partnership
- our CRP
Officers of Melksham Rail User Group
Chair - Peter Blackburn
Vice-Chair - Graham Ellis
Secretary - John Hamley
Treasurer - Judith Gradwell
Email -
info@mrug.org.uk
Discussion and detail - on the
Coffee Shop forum
(contact grahame there)
---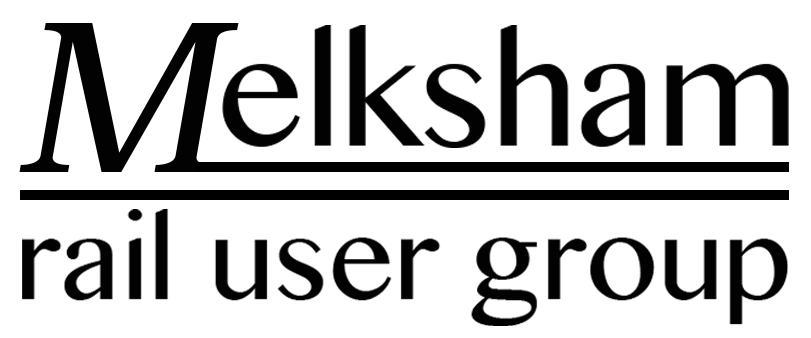 New and Upcoming ....
Timetables changing shortly
Bus times [First D3] (from 10.11.19) - [here]
Current train times (to 14.12.19) - [here]
Future train times (from 15.12.19) - [here]

Fare changes 2nd Jan 2020 - early data [here]

MRUG public meeting, "Fares Special" 20th January 2020 - see [here]

15th December 2019 - Santa will be on the train from Melksham just after 15:00 (3 p.m.) to Swindon and back. Further details [here]

Report on reduction of station dwell time – three specific ideas for Melksham proposed by the Melksham Rail User Group in reply to request for suggestions from Mark Hopwood on 18th July 2019 for input by 24th July 2019 - [[here]]

Report on summer 2019 promotion - carnivals, and fetes - see [[here]]. Thank you to everyone who's helped - and enjoy your summer trips. Pictures from Imber on 17th August - here

Tribute to class 153 trains - the single carriages which provided the vital stepping stone from no useful service to what we now have, 2013-2018 on the line, now retiring from GWR

New "Great West Way Discover" tickets launched - travel as much as you like on selected routes, two of the tickets include Melksham - great for a Staycation or for visitors to the UK who are staying with you for a while. There are now 10 different rangers and rovers that include Melksham - see [here] for a list including maps and prices.


---
---
---