Melksham Station is now served by up to 18 trains per day, and it's the gateway to the town for many new visitors.

As part of the Great British Spring Clean, the Melksham Rail User Group with support from the TransWilts CIC are organising a Litter Pick and clean up at Melksham Station starting from 10 a.m. on Saturday 13th April 2019.

If you are available to help, we would love to have you join us on 13th April. We are arranging for a Great Western Safety Briefing on 22nd March (provisionally set for 14:45, lasting on hour) and if you come along to tht you can also get a station safety clearing so that you can help with things like the planter all through the summer. Sorry you missed 22nd - but only 1 of the 9 zones needed the briefing so don't worry - get in touch and come along. Hoping to set up a station specific briefing soon anyway.

Please email ( info@mrug.org.uk ), leave a message on our MelkshamRUG Facebook page, or call 01225 708225. The MRUG co-ordinator for this event is Graham Ellis.


We will be litter picking and cleaning

* The station platform
* The parking area outside the platform
* The Station car park
* The verges and road edges of Station Approach

We will be tidying the planter, washing the signs and station fixtures, and writing up an audit log where follow up activity is needed

We will be borrowing litter picking equipment courtesy of the Town Council. Please come sensibly dressed in long trousers and wearing stout shoes.

---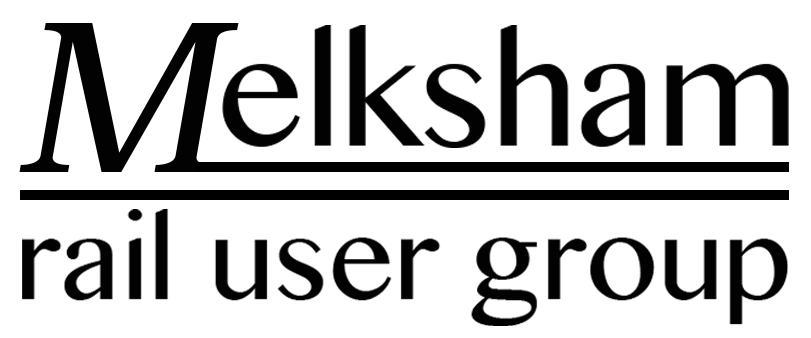 New and Upcoming ....
Timetables changing shortly
Bus times [First D3] (from 10.11.19) - [here]
Current train times (to 14.12.19) - [here]
Future train times (from 15.12.19) - [here]

Fare changes 2nd Jan 2020 - early data [here]

MRUG public meeting, "Fares Special" 20th January 2020 - see [here]

15th December 2019 - Santa will be on the train from Melksham just after 15:00 (3 p.m.) to Swindon and back. Further details [here]

Report on reduction of station dwell time – three specific ideas for Melksham proposed by the Melksham Rail User Group in reply to request for suggestions from Mark Hopwood on 18th July 2019 for input by 24th July 2019 - [[here]]

Report on summer 2019 promotion - carnivals, and fetes - see [[here]]. Thank you to everyone who's helped - and enjoy your summer trips. Pictures from Imber on 17th August - here

Tribute to class 153 trains - the single carriages which provided the vital stepping stone from no useful service to what we now have, 2013-2018 on the line, now retiring from GWR

New "Great West Way Discover" tickets launched - travel as much as you like on selected routes, two of the tickets include Melksham - great for a Staycation or for visitors to the UK who are staying with you for a while. There are now 10 different rangers and rovers that include Melksham - see [here] for a list including maps and prices.


---
---
---